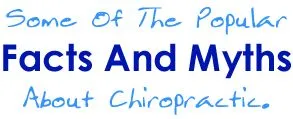 Even though chiropractic has become mainstream, a lot of old myths still exist.
Myth #1 - Chiropractors are not real doctors.

A chiropractic college grants a D.C. or Doctorate of Chiropractic degree. Chiropractors are licensed as health care providers in every U.S. state and dozens of countries around the world.
The chiropractic and medical school curricula are extremely rigorous and virtually identical. I
In fact, chiropractors have more hours of classroom education than their medical counterparts.
As part of their education, chiropractic students also complete a residency working with real patients in a clinical setting, supervised by licensed doctors of chiropractic.
Once chiropractic students graduate, they must pass four sets of national board exams as well as state board exams in the states where they want to practice.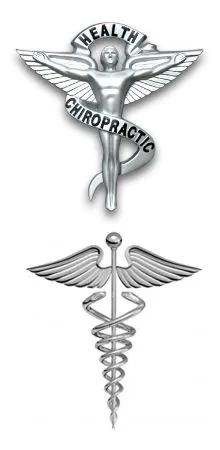 Just like medical doctors, chiropractors are professionals that are subject to the same type of testing procedures, licensing and monitoring by state and national peer-reviewed boards. Federal and state programs, such as Medicare, Medicaid, and Workers' Compensations programs cover chiropractic care, and all federal agencies accept sick-leave certificates signed by doctors of chiropractic. Chiropractors are also commissioned as officers in the military.
The biggest difference between chiropractors and medical doctors lies not in their level of education, but in their preferred method of caring for people.
Medical doctors are trained in the use of medicines (chemicals that affect your internal biochemistry) and surgery.
Therefore, if you have a chemical problem, such as diabetes, hypothyroidism, or an infection, medical doctors can be very helpful.
However, if your problem is that your spine is mis-aligned or you have soft tissue damage causing pain, there is no chemical in existence that can fix it. You need a physical solution to correct a physical problem. That is where chiropractic really shines. Chiropractors provide physical solutions -- adjustments, exercises, stretches, muscle therapy -- to help the body heal from conditions that are physical in origin, such as back pain, muscle spasms, headaches, and poor posture. Another distinction is the fact that it is completely appropriate to receive chiropractic care even if you do not have symptoms. Unlike standard medical doctors, whom you visit when you have a symptom to be treated, chiropractors offer adjustments to improve spinal alignment and overall well-being before symptoms develop.
Myth #2 - Medical doctors don't like chiropractors.
The American Medical Association's opposition to chiropractic was at its strongest in the 1940s under the leadership of Morris Fishbein. Fishbein called chiropractors "rabid dogs" and referred to them as "playful and cute, but killers" He tried to portray chiropractors as members of an unscientific cult who cared about nothing but taking their patients' money. Up to the late 1970s and early 1980s, the medical establishment purposely conspired to try to destroy the profession of chiropractic. In fact, a landmark lawsuit in the Supreme Court of Illinois in the 1980s found that the American Medical Association was guilty of conspiracy and was ordered to pay restitution to the chiropractic profession.
In the 20 years since, the opinion of most medical doctors has changed: several major studies have shown the superiority of chiropractic in helping people with a host of conditions, and medical doctors developed a better understanding as to what chiropractors actually do. Many people have returned to their medical doctors and told them about the great results they experienced at their chiropractors office. Hospitals across the country now have chiropractors on staff, and many chiropractic offices have medical doctors on staff. Chiropractors and medical doctors are now much more comfortable working together in cases where medical care is necessary as an adjunct to chiropractic care.
Myth #3 - Once you start going to a chiropractor, you have to keep going for the rest of your life.
This statement comes up frequently when the topic of chiropractic is discussed. It is only partially true. You only have to continue going to the chiropractor as long as you wish to maintain the health of your neuromusculoskeletal system. Going to a chiropractor is much like going to the dentist, exercising at a gym, or eating a healthy diet: As long as you keep it up, you continue to enjoy the benefits.
Many years ago, dentists convinced everyone that the best time to go to the dentist is before your teeth hurt, that routine dental care will help your teeth remain healthy for a long time. The same is true of chiropractic care for your spine. It is important to remember that, just like your teeth, your spine experiences normal wear and tear as you walk, drive, sit, lift, sleep, and bend. Routine chiropractic care can help you feel better, move with more freedom, and stay healthier throughout your lifetime. Although you can enjoy the benefits of chiropractic care even if you receive care for a short time, the real benefits come into play when you make chiropractic care a part of your wellness lifestyle.
Ask Dr. Ellison
If you are seeking chiropractic care in Seattle, we know you'll have lot of questions. For your convenience, we would like to take the time to answer the most commonly asked questions below.
If you have a specific question you would like to ask the Dr, please email Dr. Katherine Ellison.
What is chiropractic care?
There's nothing mysterious about chiropractic. It's a natural method of health care that focuses on correcting the causes of physical problems, rather than just treating the symptoms. Chiropractic is based on a simple but powerful premise. With a normally functioning spine and healthy nerve system, your body is better able to heal itself. That's because your spine is the lifeline of your nervous system. It controls feeling, movement, and all function through your body.
How does chiropractic work?
Chiropractic works by restoring your body's inborn ability to be healthy. When under the proper control of your nervous system, all the cells, tissues, and organs of your body are designed to resist disease and ill health. The chiropractic approach to better health is to locate and remove interferences (subluxations, misaligned vertebrae) to your nervous system. With improved spinal function, there is improved nervous system function. The goal of the chiropractor is to remove interference that may be impairing normal health through specific chiropractic adjustments, allowing your body to heal itself. A healthy spine and a healthy lifestyle are your keys to optimal health!
What is a chiropractic adjustment?
A chiropractic adjustment is the art of using a specific force in a precise direction, applied to a joint that is subluxated, "locked up," or not moving properly. The purpose of this safe and natural procedure is to eliminate interference to the nervous system, improving spinal function and overall health. An adjustment is a specifically directed force, normally by hand designed to 'unlock' the subluxated vertebrae returning normal motion and alignment to the spine. There are a variety of different methods used in Chiropractic to analyze and adjust the spine. Our doctor will choose the most effective technique for a person as well taking into consideration the physical build of the patient, the age or any other health matters. Additionally the doctor will make sure the adjustment is as comfortable as possible.
What is a subluxation?
Subluxations are problem areas of your spine that affect your entire nervous system. In these problem areas, the spinal bones are misaligned or have lost their normal range of movement. This irritates or puts pressure on local nerves, which interferes with the communication between your brain and body. It may involve your muscles, discs, ligaments, tendons and other body parts as well.
What causes subluxations?
The stresses and strains of everyday living such as housework, gardening, desk work, lifting, or even sleeping on the couch, can cause spinal problems. So can falls, accidents (especially car accidents), sports activities and injuries. In children, subluxations can initially occur during the birth process, learning to walk, in play and from everyday childhood activities.
Can I tell if I have a subluxation?
Not always. A subluxation is like a dental cavity--you may have it for a long time before symptoms appear. That's why periodic spinal checkups are so important. Although it may be possible to know you have a subluxation, it is rarely possible to be sure you don't. Regular spinal checkups are always a good idea, and they promote good health from the inside out.
What are some warning signs of subluxations?
Symptoms such as headaches, back pain, neck stiffness, pain in your shoulders, arms or legs, numbness in your hands or feet, fatigue, or nervousness are the most common signs of subluxations. But, like a tooth cavity, most people will have a subluxation long before they notice any symptoms.
Are all patients adjusted the same way?
No. The doctor evaluates each patient's unique spinal problem and develops an individual course of care. Each chiropractic adjustment builds on the one before. The resulting recommendations are based upon years of training and experience. Each patient's care is uniquely different from every other patient.
Can I adjust myself?
No. Since a chiropractic adjustment is a specific force, applied in a specific direction to a specific joint, it is virtually impossible to adjust oneself correctly and accurately. It is possible to turn or bend or twist in certain ways to create a "popping" sound that sometimes accompanies a chiropractic adjustment. Unfortunately, this type of joint manipulation is usually counterproductive, often making an already unstable spine even more unstable, and can sometimes be dangerous. Adjusting the spine is not for amateurs!
Does it hurt to get adjusted?
No. Chiropractic adjustments feel great. I am confident that once you begin receiving your adjustments, you will begin to look forward to them. They will become one of the highlights of your week. When you allow the vertebrae in your spine to return to their proper position, you will notice much less stress and tension.

Is chiropractic care safe?
Yes. Statistics prove that chiropractic care is one of the safest types of healthcare in the world. You only need to compare the malpractice premiums paid by chiropractors to those paid by medical doctors. Doctors of Chiropractic pay only a small fraction (approx. 1/20) of the price medical doctors pay in malpractice premiums. 250,000 people will die this year as a result of bad medicine, making this the third leading cause of death in the United States of America (The Journal of The American Medical Association, JAMA; Vol.284, July 26, 2000). Of the millions of people receiving chiropractic adjustments, each year, only a handful will even make a complaint.

Why do my children need chiropractic care?
The birth process is often the cause of your child's first subluxation. A very soft and undeveloped spine of an infant can suffer trauma during delivery. It is estimated that as much as 80lbs of pulling pressure can be exerted to remove a baby from the birth canal. Then, as children grow up and become more adventurous, the number of injuries to their spines become countless. The repeated falls as children learn to walk, the running, jumping, twisting, bumping and falling all over the place while playing in the yard or on an athletic field will often cause your child to become subluxated. However, often children do not show any signs or symptoms of being subluxated until later on in life. Chiropractic care offers your child a more responsive body, a more balanced flow of energy and overall increased performance as she/he passes through their windows of development. A subluxation free child also minimizes the risk of future health challenges.

What causes the sound made during a chiropractic adjustment?
That sound is not your spine "cracking" or "popping" like most people think. That sound is created by gas (in this case, nitrogen) rushing in to fill the partial vacuum created when the joints are slightly separated. Another example of this phenomenon would be the "pop" sound you hear when the cork is taken out of a champagne bottle. Not all chiropractic adjusting techniques produce this noise. In fact, some adjusting techniques use little force and thus produce no noise at all.

Is it bad to "crack" your back or neck a lot?
This question is frequently asked because people associate the "cracking" or "popping" of one's back or neck with a chiropractic adjustment. The two are not the same thing. If a person has a desire to "crack" his/her neck or back it is often because one area of their spine is fixated or jammed causing another area to move too much and "pop", sometimes by itself. It's the fixated or jammed area that needs to be properly adjusted by a chiropractor so that the other parts of the spine will not be hypermobile and noisy. When you "crack" your back you may be relieving the tension for a little while. Do you notice how it keeps coming back? That is because you are not giving yourself a specific chiropractic adjustment. The cause of the spinal tension, the fixated or jammed (subluxated) vertebrae, has not been corrected. Any person who makes a habit out of "cracking" or "popping" their back or neck needs to go to a Doctor of Chiropractic to have their spine checked. Even a chiropractor cannot adjust him/herself.
Does chiropractic work for all types of health problems?
No, however chiropractic care is successful with a very wide variety of health problems not necessarily considered "back" problems because of improved nerve system function. With a normal nerve supply the body's natural healing capacity can improve a variety of health problems.
Is chiropractic care addictive?
No. If only it were, there would be more healthy people around and chiropractors would not get patients who last saw a chiropractor a few years ago when their back went out. It is possible to get used to feeling more balanced, less stressed, and more energetic as a result or regular chiropractic care. Chiropractic is not addictive, however, good health is.
Should I continue chiropractic care if I don't have any symptoms and I feel better?
Yes. Just because symptoms disappear, does not mean your subluxations are corrected. Most of the practice members seen in our office have spinal degeneration (decay) which has taken years to develop. The trauma of the birth process, slips, falls, accidents and countless other stresses over the course of your lifetime adversely affect the health of your spine. The longer you wait to have your spine checked by a chiropractor, the longer it will take to correct your subluxations. However, how you choose to use chiropractic care is ultimately up to you. It has been our experience that those who stop care when they are "feeling fine" return with the same health challenge(s) which brought them to our office in the first place...only it's usually gotten worse. On the other hand, those practice members who commit to long-term, wellness chiropractic care, find their health challenge(s) rarely return and they enjoy a higher quality of life & health.
What type of education do chiropractic doctors receive?
Doctors of Chiropractic are well-educated and have a minimum of seven years of college schooling. Chiropractic education and medical education are similar in many respects and different in others because chiropractors do not prescribe drugs or perform surgery, and medical doctors do not correct vertebral subluxations. After graduating with a Doctor of Chiropractic (D.C.) Degree, each candidate passes the demanding four part National Board Examinations. Then, doctors apply to a governmental or professional licensing board and pass a still more difficult test before being granted the privilege to practice. A chiropractor's education, however, never ends. Most doctors complete regular postgraduate instruction for license renewal and to stay current on the latest research and adjustment techniques.